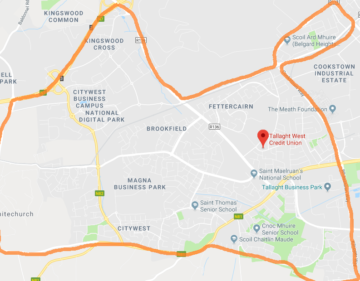 Tallaght West Credit Union was founded by a group of local volunteers in 1982 to meet the financial needs of a new and rapidly growing community.  Even Today we are the only financial institution with a bricks and mortar presence in our common bond area, which stretches from the Cookstown Road in the East, to cover Citywest, Jobstown, Killinarden, Fettercairn, Belgard Heights, Brookfield, Springfield, Mountainview and Kiltalown and covers over 60,000 people.
We are a fully member-owned cooperative, democratically controlled and run by a volunteer Board of Directors elected by the members each year at AGM.
Anyone who lives or works in the common bond area is entitled to join and benefit from the advantages of membership.  Credit Unions are a real alternative to both the mainstream financial institutions and also moneylenders, for people who want to support their community and have control over their own financial future.